If you are going to own your own tattoo parlor, then you need to have the best tattoo equipment available. This is to insure the safety of your customers as well as the safety of your employees. You should have quality tattoo guns and needles that are sterile. You should also have ink and individual …
The post Types of Tattoo Equipment appeared first on TheLAShop Blog.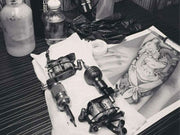 Contents of Tattoo Gun Kits   Tattoo gun kits come with a variety of different components.  The first is the gun itself, but they may also come with a supply of disposable needles and enough ink to do your first 10 or 20 tattoos.  You may even have a supply of practice skin that lets …
The post Tattoo Gun Kits appeared first on TheLAShop Blog.