Self-Care Gift 2021 
We all know that self-care is important, especially after the past few years. Now, more than ever, it is vital to revitalize and rejuvenate. Take care of yourself, and enter the New Year in a refreshed and renewed fashion. Let theLAShop show you how to bring your inner beauty outward. 
Yoga Anywhere
Yoga is a great way to get into shape, improve your balance, and increase your flexibility. TheLAShop provides the perfect inflatable perfect mat that can be used on almost any terrain! The thick pad can be placed on gravel, sand, stones, soil, concrete or anywhere else you would like to work out! 
Half Yoga Ball 
A half yoga exercise ball is an amazing way to increase your balance and strength your core. The half yoga ball can be inflated and deflated using a foot pump, so it can be neatly stored away when not in use. Bring all the benefits of a gym home with you when you get the right equipment. A half yoga ball is an affordable gym accessory that you can't afford to miss. 
Yoga Aerial Trapeze Hammock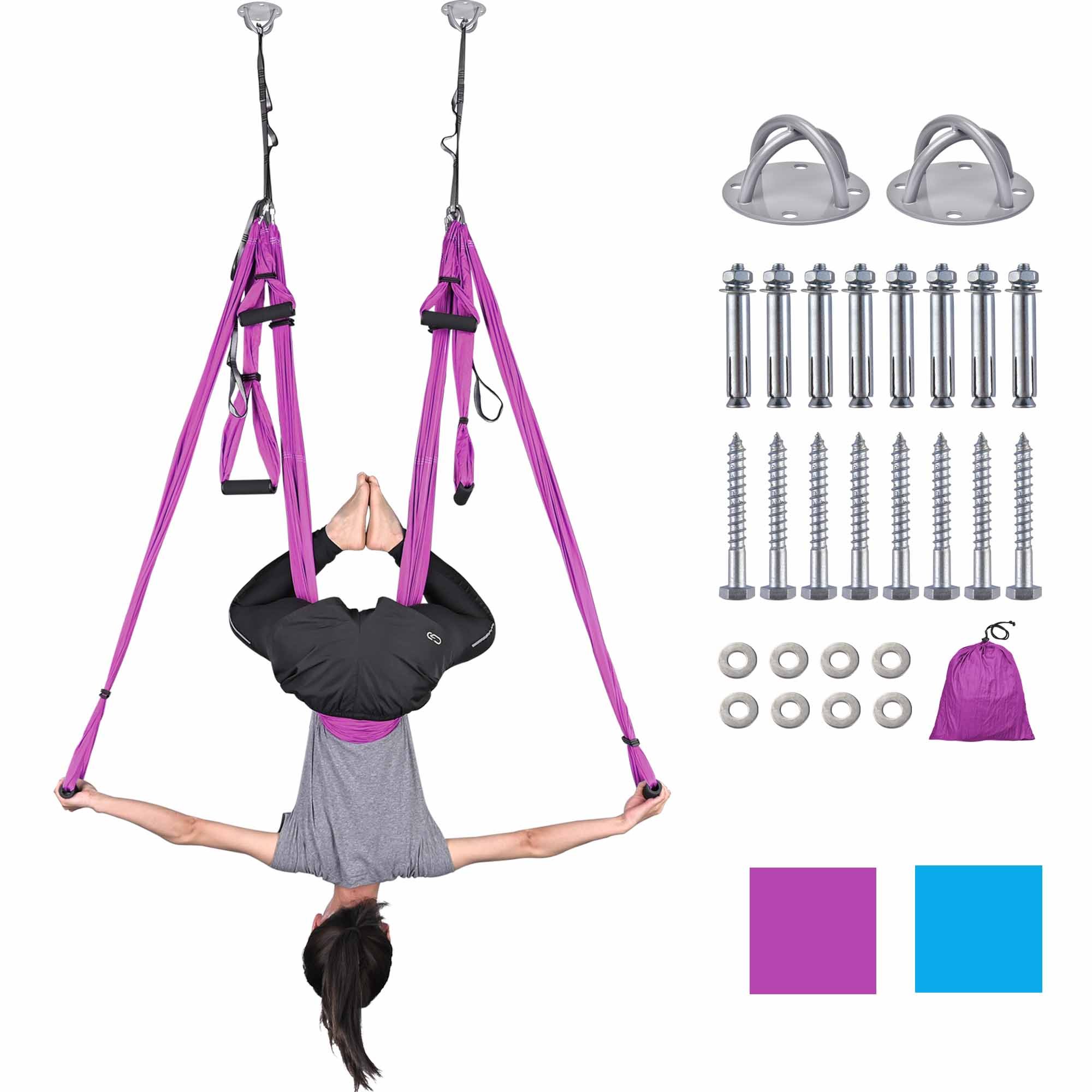 Stretch out like never before with a multi-purpose hammock. Our aerial yoga, trapeze hammock gives you the opportunity to stretch deeply. Hang the hammock from your feeling to get the full advantage of the hammock. The sturdy material can safely hold 440 pounds at one time and can be used for both relaxation and exercise. 
Stretch Strap Belt Anchor 
Advanced stretching is not left to ballet dancers and gymnasts. You can get in a deep stretch with a door stretch strap! The flexible door trainer is wear-resistant and multi-functional so it can be used for both flexibility and balance. Use this band for therapy purposes and get a deep stretch. 
Los Angeles 2021
After countless months of waiting, Christmas in Los Angeles 2021 is finally here! Unfortunately, due to the worldwide emergency, only a few businesses could operate under heavy restrictions to keep Los Angeles residents safe. However, this year, many Los Angeles businesses are open, which gives us time to enjoy the festive activities we love so much! 
TheLAShop: Los Angeles Christmas Store 
Are you looking to add some modern LA-style to your home? Then, we've got precisely what you need! 
Check out our Christmas Decorations.  
We have an extensive collection of Christmas LED lights that are remotely operated and can change to a myriad of vibrant colors. Take a look at our extensive collection of lights, including solar-powered and smart lights.  
Los Angeles Christmas Events
Now that Los Angeles is back open, there is more than enough to do! Listed below are some of our favorite events and scheduled getaways! 
Christmas Tree Lane. We all know Los Angeles for its beautiful palm trees and fresh grasslands, but this marvelous mile-long driveway becomes a lighted Christmas Wonderland each winter! Take a beautiful drive-through adventure Christmas Tree Lane this winter as the drive-through is open until January 7th. 
South Coast Botanic Garden's GLOW. This twinkly adventure is a fantastic after-hours walking tour. Beginning right after Thanksgiving, this magical park is a multicolored garden of bright lights, nature, and beauty that is a must-see! 
Beverly Hills. The Beverly Hill Christmas Lights are only comparable to that of Time's Square. If you enjoy the city, shopping, delicious restaurants, and the high-energy vibe of happy tourists, you have to stop at Beverly Hills. Take the time out to view our beautiful city at its most beautiful time of year.
Los Angeles Christmas Tree Farms
Are you looking for a fun and fresh Christmas tree? In Los Angeles, you must get your trees from specific places, but there are only some worthwhile places! Your Christmas decorations begin with your Christmas tree, so you have to get the right one. 
Take a look at our favorite unique and creative Christmas tree ideas!
Mr. Jingles Christmas Trees. Mr. Jingles is celebrating its 20th year of Christmas joy! They are known for their fresh cuts and delivery as the trees are removed in one-two days before delivery. 
Stay Home | Los Angeles Restaurants Open Christmas Day 
Christmas is a national holiday, so it is understandable if a restaurant is closed on that day. However, theLAShop is here for you. Forget about going out to a restaurant on Christmas day and enjoying a home-cooked meal! Deep frying is one of the easiest and quickest ways to cook tasty treats in your home! 
Check out these Deep Fried Christmas Snacks and Ideas!
Deep-fried foods can match almost any diet! As a matter of fact, check out one of our favorite vegan deep-fried dishes: Vegan Deep-Fried Mozzarella Discs!
Vegan Deep-Fried Mozzarella Discs
Ingredients:
1 cup flour

1 cup nondairy milk

1 cup breadcrumbs
Oil, for frying

Optional garnish: 6 sprigs of parsley

1 cup marinara sauce
Directions:
Step 1: Separate flor, milk, and breadcrumbs into 3 separate bowls 
Step 2: Carefully take the MozzaRissella and evenly coat it in flour, then in the nondairy milk, and finally in the breadcrumbs. 
Step 3: Heat oil in deep-fryer to 375°F.
Step 4: Fry for 3-5 minutes or until golden brown 
Step 5: Drain on paper towel for 5-10 minutes 
Step 6: Server with parsley and marinara sauce for dipping 
What is the LA lifestyle?
Los Angeles is a fantastic place to live. Los Angeles is known for its sunshine, fashion, and staying up to date with the latest modern trends. Living the Los Angeles healthy lifestyle is easier than you think. You simply have to find your tribe and go with it! Whether you're interested in lifestyle pets Los Angeles, the yoga lifestyle of Los Angeles, the Los Angeles fitness lifestyle, or the luxury lifestyle in Los Angeles, we have the merchandise for you! Check out our inventory and get a taste of the hip and trendy Los Angeles lifestyle! 
Enjoy the Winter with TheLAShop 
We have a lot to be thankful for this year. In 2021, it is more important than ever to spend time with the ones we love. So connect with your family and friends virtually this year. 
Many statewide restrictions are put in place to keep us healthy and protected. Though this change may take some time to adapt to, it does not mean that we still can't enjoy our current lives. Spend this time safely with your immediate families, and appreciate the time you have together. 
    Join theLAShop Rewards Membership Program to earn points and save money on purchases on home essentials. As a theLAShop Rewards member, you will make 1 point for $1 spent at our online store! Receive a $5 to $30 coupon when you purchase from our website.
Point value is based on the purchase; the more you spend, the more you save.
Sign Up Here
to Receive Special Discounts and 200 points just for signing up!