Homemade DIY Pool Toys 
California is known for extreme temperatures, especially in the summer. Summers in California can reach up to 83.3°F on average but can get way hotter on certain days. The heat can be enjoyable, but intense sunlight can cause damage to the skin, respiratory system, and immune system. Needless to say, it is vital for your health and happiness to keep it cool this summer. We all know a great way to stay cool is to enjoy a quick dip in the ocean, or in your pool. However, this summer you can do more than just take a fast splash in the water, take your water experience to the next level. There are some DIY pool toys and activities theLAShop will know you'll love!! 
Sailboats
Tiny toy sailboats are fun and easy to make. Whether you're playing in a large pool or splashing around in your bathtub these tiny sailboats are a pleasure to race and watch float across the water. They can be made from wine corks, empty bottles, or sponges. Simply attach a rope to your boat and or a large sail to catch the wind. 
Step 1: Wrap 3 wine corks with two rubber bands.
Step 2: If you plan to race your toy boat in a creek or lake, attach a length of cotton string to keep your boat from floating away. However, if it does happen to float off, it is   made from natural materials that will break down and decompose.
Step 3: Insert a toothpick into the middle cork (in between the two rubber bands) to form the mast. Add a cardstock sail by threading it through the toothpick, as shown. 
Water Sponges Toys
Sponges make the perfect pool toys because they can easily be cleaned and are water-resistant. When not in use they can be squeezed out and dried until you're ready to use them again. Sponge toys can be made at home with a few simple cuts and folding. 
Step 1: Cut 3 small sponges into thirds. Tie them together with a zip tie or string. 
Step 2: Fasten the sponges as tight as possible. Attach other pieces to make odd, and creative shapes    
Slip and Slide
A slip and slide can be enjoyed by both children and adults alike. Slip and slides are fun backyard games that don't require many materials.  
Step 1: Use the pool noodles to create the frame of the Slip 'n Slide and then wrap the edges with the heavy-duty roll of plastic.
Step 2: Use the Velcro to enclose the plastic around the pool noodle so that it does not open.
Step 3: Once the body of the Slip 'n Slide is enclosed, run a sprinkler hose next to the slide so it gets nice and wet for you to begin your backyard water activity!
Play Marco Polo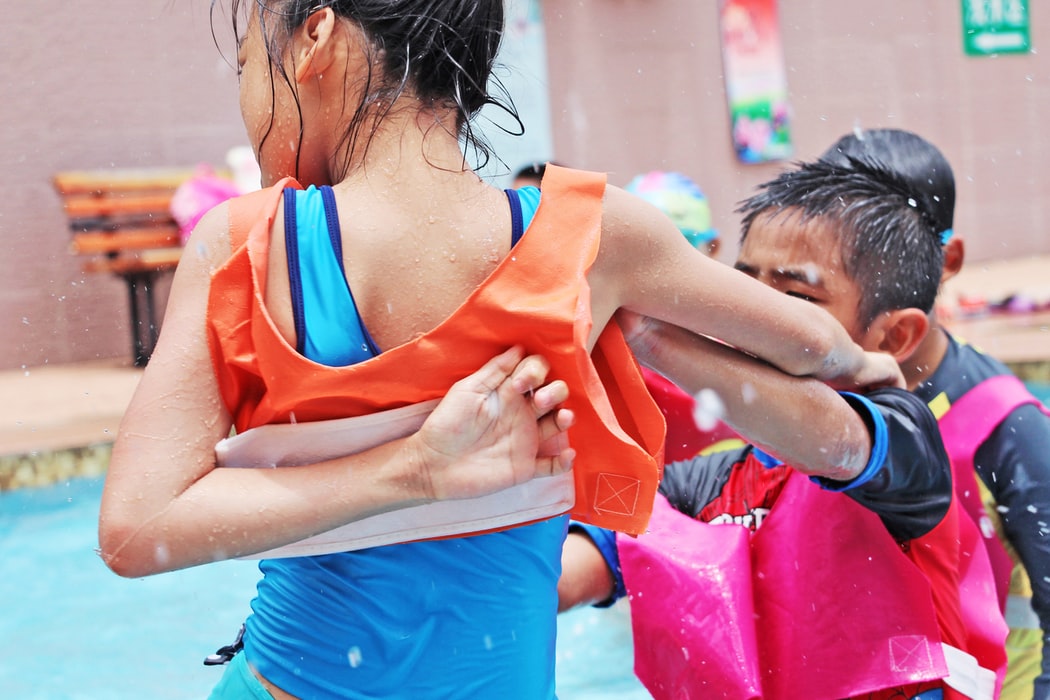 Forget Marco Polo who was the first European to reach China. In America, if it's June, July or August, Marco (Polo!) is the king of the pool. "Marco" catches other players based on their reply to his call, and there's no adrenaline-like daring to be the fish out of the water! Just like tag, only in water and with your eyes closed, how many hours did you spend playing this easy but exciting pool game as a kid?
What is the LA lifestyle?
Los Angeles is known for our sunshine, fashion, and staying up to date with the latest modern trends. Living the Los Angeles healthy lifestyle is easier than you think. You simply have you find your tribe and go with it! Whether you're interested in lifestyle pets Los Angeles, the yoga lifestyle of Los Angeles, the Los Angeles fitness lifestyle, or the luxury lifestyle in Los Angeles we have the merchandise for you! Check out our inventory and get a taste of the hip and trendy Los Angeles lifestyle! 
Enjoy the Summer with TheLAShop 
We have a lot to be thankful for this year. In 2021, it is more important than ever to spend time with the ones we love. Connect with your family and friends virtually this year. 
Many statewide restrictions are put in place to keep us healthy and protected. Though this change may take some time to adapt to, it does not mean that we still can't enjoy our current lives. Spend this time safely with your immediate families, and appreciate the time you have together. 
    Join theLAShop Rewards Membership Program to earn points and save money on purchases on home essentials. As a theLAShop Rewards member, you will make 1 point for $1 spent at our online store! Receive a $5 to $30 coupon when you purchase from our website.
Point value is based on the purchase; the more you spend, the more you save.