Affordable Hacks: How to Improve Your Backyard 

Backyard upgrades are limitless if you have a bit of imagination. Your home is your palace, and your backyard is your crowning jewel. You could have the best landscaping ideas, but without the know-how or proper funds, you can turn your backyard into an expensive eyesore. That's why TheLAShop is here to help with these super tips to the perfect backyard makeover. 
Outdoor Decoration Ideas on a Budget 
This summer, we've spent a lot of time at home, looking at the same old furniture, doing the same old things, and eating the same old food. Let's face it; some of us are ready to give our outdoor living spaces an upgrade. However, backyard remodeling can be expensive if you lack creativity. Before you consider making over your backyard entirely, think about these small and affordable, DIY upgrades:
Setup the Correct Lighting.
The correct lighting can make your tiny backyard look ginormous! Your lighting can set the mood from romantic to fun and energetic in the flick of a switch. Use
LED solar-charged landscape lights
to brighten the landscape without raising your light bill! An LED solar-charged umbrella is an excellent addition to any backyard or patio because it creates a cozy atmosphere and can be used in both the day, and night. 
Get Creative with your Fence. Got a painter in the family? Paint a mural or design on your fence! Use colors and themes that match house and backyard decor. This is not only a cost-effective way to upgrade your backyard, and bond with the family at the same time. 
Minimize Grass with Artificial Grass. This is a great way to neaten up your garden and minimize your lawn upkeep. With artificial grass, you can make space for outdoor fountains, pathways, and dining areas. 
Add a Hammock. Nothing completes a summer day like a relaxing nap in your hammock. A treat for both adults and children, a hammock can be quickly and securely fashioned between two trees of a hammock stand. 
Create a Low-Maintenance Garden. Use only plants that are easy to maintain and grow. Bushes and trees are hardier and generally less expensive than exotic flowers and delicate ferns. 
Backyard Spa Ideas 
If you have a jacuzzi or hot tub, then you're halfway there! However, for those of us with smaller backyards, where jacuzzis are not an option, we have to find other ways to create that home spa experience. Take design notes from your favorite spa and mimic similar concepts such as running fountains, stone paths, and LED solar wind chimes. Besides decorations, some of the must-have equipment should include: 
A Portable Sauna Tent.
Get brighter, healthier skin!
Portable sauna tents
are the perfect way to bring the comfort of a spa into your own backyard. Enjoy a book, movie, or nap while enjoying the healthy benefits of a sauna.   
An Ionic Detox Foot Soaking Tub. These relaxing foot baths detox the body while getting rid of fatigue and restoring energy.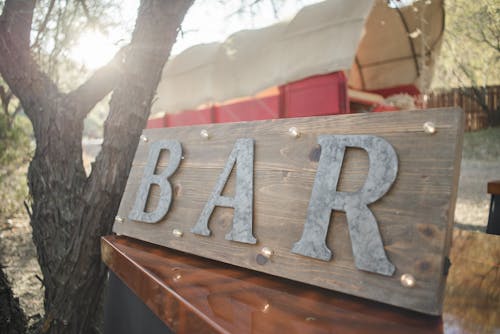 Hacks to an Outdoor Bar
An outdoor bar will take any backyard to the next level! Regardless of the style of your bar, a beautiful display of drinks will add excitement to any days off and elevate any spontaneous summer party that arises! Your bar does not have to be large or extravagant; it just has to be functional! Read this outdoor bar checklist to be sure you have everything you need. 
Mini-fridge.
A mini-fridge is a must-have and the perfect start to opening your bar
Glassware.

Use thick glass for outdoor use and matching sets for a touch of class and style 
Snowcone machine.

There are many 

delicious adult beverages you can make with a snow cone machine. 

These machines are sturdy and produce plenty of ice quickly. 
Outdoor seating.
 

When people are drinking, they may want to take it easy. Be sure to provide enough seating for all of your guests. Always have

 
backup folding chairs
 

just in case other guests arrive.  

Small Backyard Entertainment Area, Home Theatres
Whether you're watching your favorite sports game or gearing up for your favorite summer blockbuster release, you can create the perfect home theatre regardless of space. Simply add a few blankets, pillows, and romantic lighting to set the ideal mood and viewing experience. A high-quality projector, access to the internet, and projector screen are all you need to enjoy the great outdoors and your favorite movie, all at the same time. 
Create a Personalized Outdoor Activity Center 
Invest in a backyard jungle gym, treehouse, basketball court, or outdoor yoga studio! Turning your backyard into an amusement park isn't expensive if you're creative. Start with a DIY tire swing or cost-effective treehouse! Lawn games such as golf and volleyball can be easily set up and disassembled in a matter of minutes. 
Redesign Your Backyard with these Summer Deals 
Backyard camping is a safe and fun way to get some fresh air, bond with your family, and enjoy nature. While you're at it, join theLAShop Rewards Membership Program to earn points and save money on purchases on home essentials. Don't forget to follow our Facebook and Instagram for information on the latest deals, freebies, contests, and more!