2020 Halloween Makeup Costume Ideas  
Getting invited to that last-minute invite to the Halloween party can be stressful if you don't have the right costume! Don't worry, with a little creativity you can create the perfect costume with a little makeup and whatever you have in your closet! Your limit is your imagination as you can design beautiful, silly, or even scary characters with just a little makeup and maybe some fake blood or face paint. Here are a few popular 2020 easy Halloween makeup ideas.
The Day of the Dead 
Similar to Halloween, the Day of the Dead starts on October 31st but lasts throughout November 2. The Day of the Dead is a traditional Mexican holiday that honors and celebrates deceased loved ones. Customs include prayer, remembrance of friends and family members who have died, wearing skull masks and makeup, and enjoying festivities. This beautiful skull design is a great way to give a remember the dead, without looking too creepy. 
Scary Clown 
Clowns have always been a legitimate fear for a lot of people for many years. This can be due to the popularity of evil clowns in pop culture such as Pennywise in Stephen King's movies. Psychologists have explored the irrational fear of clowns and linked it to the clown's makeup. When someone has that much of their face covered, it is difficult to tell who they are or how they feel. With a fake smile or frown painted on, it is difficult to gage someone's emotions which makes it harder to trust them or predict what they're gonna do. Evil clown looks can be simple, sexy, or for the scarier look add a little fake blood.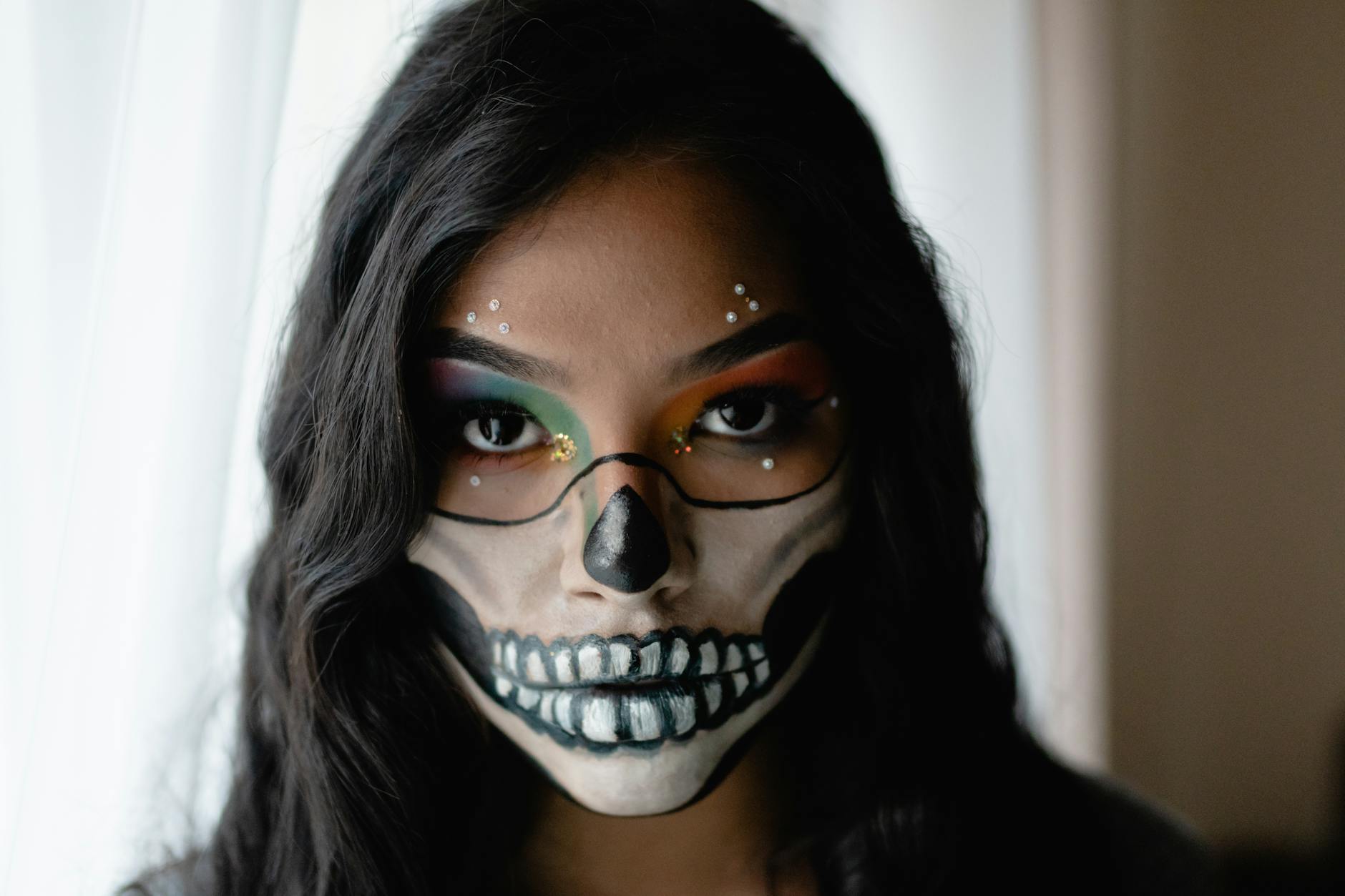 Glamour Zombie
Just because you're dead, doesn't mean you still can't look your best! Becoming a zombie is a really simple way to get into the Halloween spirit! You don't need to run to Amazon for pounds of fake rotting flesh, just add a little glitter. The great part about being a zombie, is that you could have died in your best outfit! Feel free to cheat a little bit and consider busting out that old dress you've been waiting for an excuse to wear. 
Gothic Witch
Do you have an all black outfit in your closet? We bet you do! Everyone looks great in black and gothic makeup brings out the mysterious beauty in everyone! Show everyone at the party just how magical you are with a smooth and straightforward look that proves you have a connection to the supernatural!   
 Animal Makeup
If you've never been a cute cat before, now here's your chance. Animal makeup is really simple to do and can be done with just a little eyeliner and artistry. Animal costumes can be as detailed as you want them to be and you can wear whatever you have in your closet. The actual makeup process can be done very quickly for that last minute costume change. 
Stay Organized 
Whether you're doing makeup professionally for a few different people or you're planning on doing a detailed job on yourself, you're going to need to keep all of your makeup organized and neat so that it's safe and lasts longer. Use a customizable makeup case to properly care for all of your beauty tools and utensils. 
Halloween in Los Angeles 2021 
From the annual West Halloween Carnival to the opening of Holiday themed events at theme parks it is obvious that Californians love Halloween! As always Los Angeles has a myriad of open Halloween themed events and safe places to trick or treat. Regardless of what event you're going to or throwing you need to have the best costume. Take a look at our Adult DIY Halloween costumes,  family themed Halloween costumes, DIY Halloween Pet costumes, and costumes you can create with just make up to get inspired by our collection! Have fun with Halloween!       

What is the LA lifestyle?
Los Angeles is an amazing place to live. Los Angeles is known for our sunshine, fashion, and staying up to date with the latest modern trends. Living the Los Angeles healthy lifestyle is easier than you think. You simply have to find your tribe and go with it! Whether you're interested in lifestyle pets Los Angeles, the yoga lifestyle of Los Angeles, the Los Angeles fitness lifestyle, or the luxury lifestyle in Los Angeles we have the merchandise for you! Check out our inventory and get a taste of the hip and trendy Los Angeles lifestyle! 
Enjoy the Fall with TheLAShop 
We have a lot to be thankful for this year. In 2021, it is more important than ever to spend time with the ones we love. Connect with your family and friends virtually this year. 
Many statewide restrictions are put in place to keep us healthy and protected. Though this change may take some time to adapt to, it does not mean that we still can't enjoy our current lives. Spend this time safely with your immediate families, and appreciate the time you have together. 
    Join theLAShop Rewards Membership Program to earn points and save money on purchases on home essentials. As a theLAShop Rewards member, you will make 1 point for $1 spent at our online store! Receive a $5 to $30 coupon when you purchase from our website.
Point value is based on the purchase; the more you spend, the more you save.
Sign Up Here to Receive Special Discounts and 200 points just for signing up!
Celebrate Halloween with TheLAShop   
It is never to late to start planning your Halloween costume! Start thinking now and ensure the best plan while you still have time! Get inspired by our Halloween collection! Join theLAShop Rewards Membership Program to earn points and save money on purchases on home essentials. Don't forget to follow our Facebook and Instagram for information on the latest deals, freebies, contests, and more!